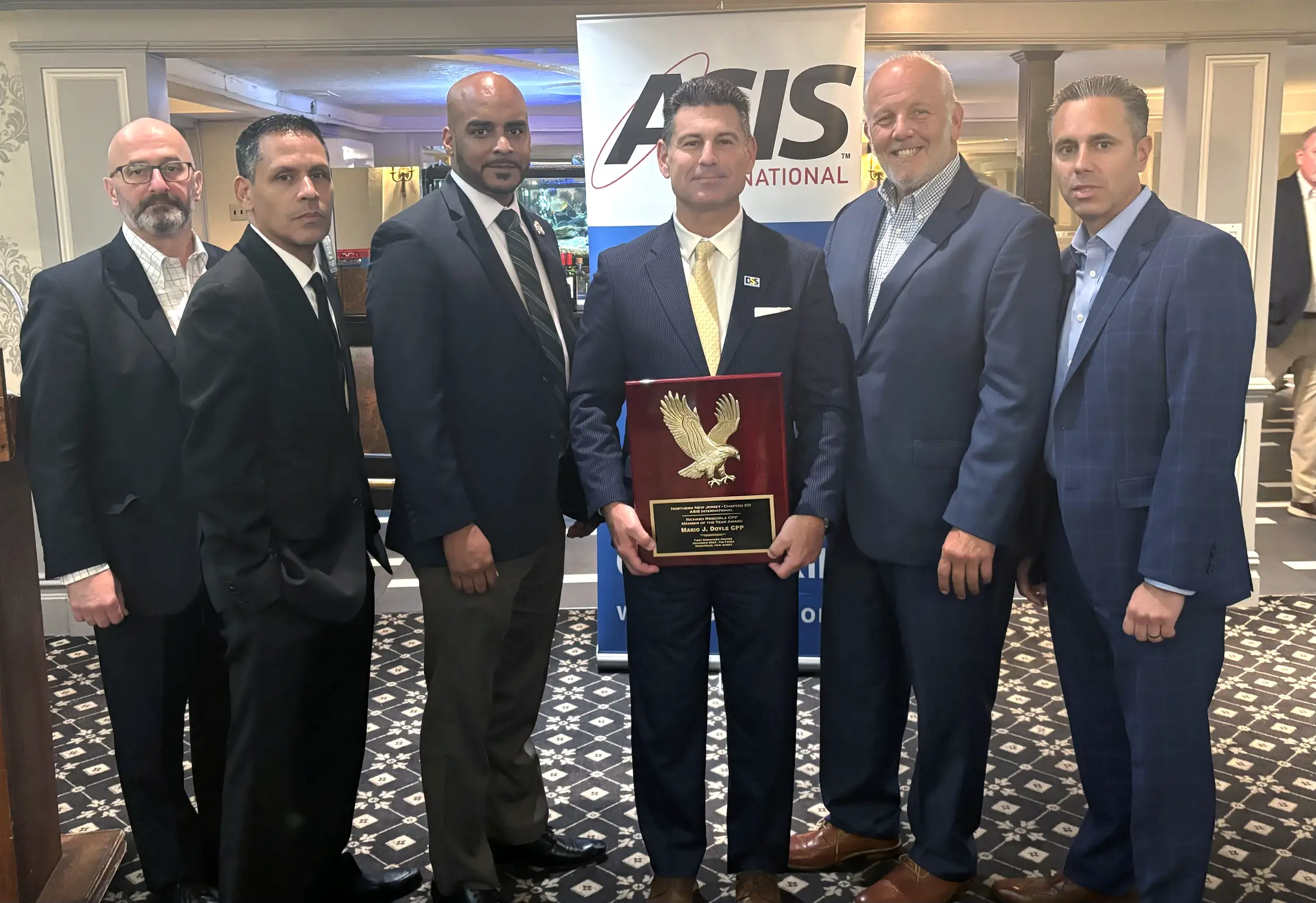 DSS Vice President—New Jersey Mark Riggio, seen here with other DSS Team members, accepted the ASIS award on Mario J. Doyle's behalf.
Mario J. Doyle Receives Prestigious ASIS Member of the Year Award
DSS is proud to announce that our Founder, President and COO was honored with the Richard Rescorla Member of the Year Award by ASIS International's Northern New Jersey chapter (ASIS NNJ).
The award was presented at the chapter's annual First Responders Awards Lunch on November 2, at The Fiesta in Wood-Ridge, New Jersey. DSS Vice President—New Jersey Mark Riggio accepted the  award on Mario J. Doyle's behalf. Many members of the DSS New Jersey District team, as well as other DSS team members, attended the lunch to show their support.
"When ASIS – or the security industry as a whole – needs something, Mario is the person we know will give us anything we need. He is most deserving of this award," said ASIS NNJ Vice Chairman Thomas Whittles. "Frankly, I can't think of anyone who has done more for the ASIS as an organization or our chapter than Mario this year."
"I am deeply honored to receive the Richard Rescorla Member of the Year Award from the ASIS NNJ," said Mario J. Doyle. "ASIS is the premier security industry organization and their work is vital to improving the industry and the services it provides, keeping clients and the public safe in an increasingly threat-filled environment."
The award is named for legendary security professional and decorated Vietnam War veteran Rick Rescorla, CPP, who oversaw security at the offices of Morgan Stanley in the former South Tower of the World Trade Center. After the first terrorist attacks on the WTC in 1993, Rescorla ran constant security drills for Morgan Stanley employees. Due to his vigilance and preparedness, on September 11, 2001, 2,700 Morgan Stanley employees were successfully evacuated from the stricken WTC under Rescorla's direction. Heroically, Rescorla returned to the South Tower to make sure no one had been left behind. He was last seen heading back up the stairs inside the building shortly before it collapsed. His remains have never been found.
Mario J. Doyle is widely recognized as a security industry leader actively. He is a member of ASIS International and also serves as the Group Vice Chairman & Chairman of the New York Metropolitan Area Council of TINYg (Global Terrorism Information Network). Additionally, he serves on the board of The Global Shield Foundation, and has held leadership roles at Associated Licensed Detectives of New York State (ALDONYS). He is an active member of National Law Enforcement Associates, Inc., the Nassau County Municipal Police Chief's Association, and is the Director of the Nassau County Police Foundation.